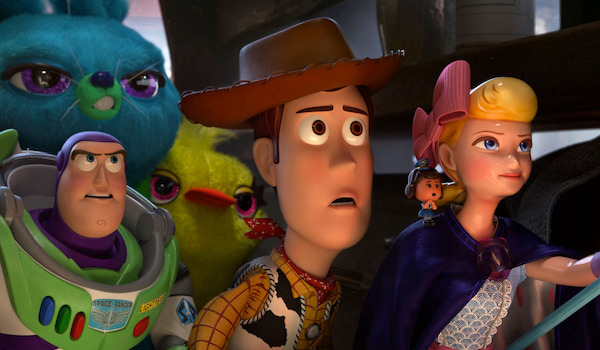 Well, I'm way late to this particular party. I actually first saw Toy Story 4 a while back. Even at that time, it had already been out for a year. I wanted to write something about it then, but I never got around to it. I hardly write anything new on this blog. But every time I see someone bemoan the ending of Toy Story 4, I feel the need to defend it, and I suppose I just saw one too many rants against it, so I finally had to sit down and write this damn thing.
I understand why some people see Toy Story, Toy Story 2, and Toy Story 3 as the perfect trilogy. I understand why some people refuse to see the 4th one. They don't want to ruin the trifecta by adding any further "canon" to the story that may change how they view the narrative or the characters. But the makers of Toy Story 4 knew that, yes, kids watch these movies, but so do the adults that grew up with them. With that in mind, they slid in a message that I believe was wholly for the grown-ups watching. It's the reason the franchise ends how it does.
To truly explain what this franchise means to me, we have to go way back. I was six when the first Toy Story movie came out, two years younger than Andy is in that movie. Still, in the film's target demographic. But Andy aged a little more slowly than a real-life kid. So while he's 17 in Toy Story 3, I was 21 when it was initially released. Yet, there was a feeling of "growing up with" the movies.
As a six-year-old, I thought the original Toy Story was special. Historically, it still is. And a great movie besides. The thing is, as I remember it, my family had a friend who worked at the studio. They sent me a box of toys that tied in with the ones in the movie, and we got to see the actual film at the El Capitan theater in Hollywood. The El Capitan also had a huge room full of games and other activities. The activity that stands out the most was the Army Man obstacle course. They strapped our feet to these long rubbery strips, and we had to get across the course, walking the way the army men do in the movie. (If I'd been a little older, I likely would have found that more fun. I remember it being difficult and getting frustrated.) All this to say, it was an EVENT. Six-year-old me had never encountered so much build up over a single movie. Add to that how goddamn good Toy Story is, and it will always hold a special place in my heart.
In that respect, Toy Story 2 couldn't possibly measure up. Right? I was probably just a tad older than who it was aimed at. Despite a four year gap between movies, Andy is only one year older. But the themes seemed a lot more grown-up. I'll come back to that in a second. Still, I was sure lightning wouldn't strike twice. Surely this wouldn't be able to replicate the magic of the original.
O ye of little faith. Toy Story 2 is at least as good as the original. It might be better. It's too close to call.
When the third one came around, the final movie of the trilogy, the stakes were high. To ensure they'd hit it out of the park, they hired an academy award-winning screenwriter to pen the final installment. It's written by Michael Ardnt, who wrote Little Miss Sunshine. My favorite screenplay of all time. And he didn't disappoint. Toy Story 3 exceeded expectations for the third and, what we believed to be, the final time. It was much more emotional than its predecessors. They had taken the 11-year gap between movies into account, and Andy was suddenly 17 and going away to college. Despite almost being out of college myself, it still had a huge effect on me. The younger adults in the theater were trying to hide their quiet sniffles. The parents were outright sobbing. It was the perfect ending to a near-perfect trilogy.
There was one major character missing from that final movie, though. Bo Peep. The closest thing to a love interest for Woody. They mention the fact that she was one of the toys they had to part with. But we aren't given much information other than that. Unfortunately, Bo didn't have a terribly strong personality. She wasn't the most poorly drawn character. But her loyalty to Woody was always overshadowed by Slinky Dog, and she was a couple of years too early to get the Disnified Strong Female Character treatment. Or else a tomboyish charm, like Jessie. And Jessie firmly slotted herself in the female lead slot for the sequels. It seemed they weren't really sure to do with Bo, other than relegating her absence to a cautionary tale for the others. She was also a character who would have just enough sting to feel we'd lost someone significant without wounding the audience too much.
This finally brings us to Toy Story 4, the themes, and why giving the franchise this new ending is actually kind of kick-ass. The recurring themes in the first three films are all about friendship and loyalty. TS4 flips those themes on their heads. I don't really think TS4 is as much of a kid's movie as its predecessors. I think it was made for adults that grew up with the trilogy and had a new message now that they were moving onto a new stage of their lives. It was released nine years after TS3, and though Andy was no longer in the picture, the now-30-year-olds watching were wondering, "I built these positive friendships just like you taught me to. But life is moving along. What happens next?"
And I want to make this clear: friendships are important and precious, and you should hold on to the good ones. And a little distance shouldn't necessarily spell the end of a friendship if it's something both parties want to hold onto.
But when you're around this particular age, people that used to live around the corner…don't anymore. They begin moving away. Several people very close to me moved out of state, and then, the year this movie came out, it was my turn. I initially thought it might be a temporary arrangement. Then I met someone. I suddenly had to decide how permanent this move was.
It would mean putting distance between myself and the place I had considered to be home for the first 30 years of my life. It would mean putting distance between myself and my friends and family. So, yes. Full disclosure, my feelings toward Toy Story 4 have a lot to do with my personal experiences at the time.
I also want to talk about Woody's loyalty and who has it over the course of the movies. In the first, it's to Andy. The other toys are a distant second, but ultimately Andy is who matters. Buzz's appearance tests that. Woody needs to decide if his own need to be the favorite toy is outweighed by what would make Andy happy. By the end, Woody makes room for Buzz in a way that they can all be happy. In the second movie, that's tested again, except this time, Woody decided not to return to Andy. I swear, everyone forgets that. His loyalty shifts to Jessie, Bullseye, and Stinky Pete, realizing that the museum is their chance at happiness. Until Andy's other toys come and have to convince him, he says he's even excited about making the trip to what would have been his new home in Tokyo.
The idea of Woody leaving his old friends had already been established in the second movie. When Andy's toys come to rescue him, he says, "Well, I guess you wasted your time." Of course, Woody ultimately suggests the Roundup Gang join him instead, and they agree (except for Pete, who becomes the villain). So Woody doesn't have to choose between the two groups.
In the third movie, Woody's allegiance is twisted again. This time he is committed to joining Andy at college, while the other toys will remain in the attic to hopefully be passed down to Andy's own kids a decade or so down the line. Woody's at peace with that too. It seems he's leaning back towards taking care of Andy. By the end of the movie, Woody finally has to choose if he'll stay with Andy and be separated from his friends or if he will stay with his friends and lose his kid. But his kid isn't a kid anymore, and I think that's the reason he chooses to move on with Bonnie, even though their connection isn't as strong as the one Woody had with Andy.
So when TS4 picks up, right on the heels of TS3, Woody is clearly missing that special something he had with Andy. Okay, I have to back up AGAIN. Toy Story 4 actually starts in the past. Andy is older than in the first two movies but much younger than he was in the third. His little sister, Molly, has grown out of her more baby-ish things and is giving them away. This includes her Bo Peep lamp. If you've forgotten, Bo Peep was a figurine that attached to a lamp. And she was Molly's, not Andy's.
When Bo is about to be taken away, Woody goes after her and offers to sneak her back, but she rejects the offer. She's ready for the next adventure and isn't as concerned about holding onto a kid who's grown out of her. Bo then suggests that Woody come with her. And here's the thing, HE'S 100% GOING TO. He barely thinks about it, but he's going to give up home, his friends, and Andy and go with Bo. Then Andy comes rushing out in a panic because he can't find Woody and, at the last possible second, Woody says goodbye to Bo and lets Andy find him. And he's not over it. He wasn't over it in Toy Story 3 either, but in Toy Story 4, we have a better understanding of why.
So fast forward to Woody reuniting with Bo in the middle of TS4. She's…different. In the first two movies, she's flirty, girly, loyal, and pragmatic. She's team-Woody during the first TS. Even when the other toys turn against him. Aside from one line of dialogue—after first seeing Buzz, she can be heard uttering, "I found my moving buddy"—her flirting is directed only at Woody, and he clearly reciprocates her feelings. Her characterization in that first scene of TS4 seems about the same. But after that…
They really ran a risk of taking her character too far, making her a super-soldier ninja spy. Instead, she's hardened but also savvy, witty, and competent. Her skirt now doubles as a cape, and her little lost sheep have become her devoted sidekicks. She has connections and acquaintances that are borderline friends, but she's a "lost toy." She's on her own, independent, and she isn't looking for anyone else. She was once in love with another toy (Woody), it didn't work out. She's not happy about it, but she's moved forward.
So when Woody appears unattended on a playground, she thinks he's a lost toy too, and maybe, just maybe, they can stay together this time.
Over the course of the movie, it becomes ever more apparent that Woody isn't really going to all the trouble he's going to with Forky just for Bonnie. She's upset to lose Forky, sure. But she's five. She'd recover. The real reason Woody is going to all that trouble is that he's feeling obsolete, so he's creating himself a position of responsibility. Woody was used to being the leader of Andy's toys. And he was good at it. But now Andy's toys are Bonnie's toys, and Bonnie's toys already have a leader. The truth is Bonnie would get on just fine without Woody too.
In the end, Woody must again reexamine his loyalty and make a decision: go through the motions with Bonnie, so the "Andy's toys" unit remains together. Or go on a lifetime of adventures with the one that almost got away.
Woody chooses Bonnie. It was at this point in the movie that I had a terrible sinking feeling. I was watching a parallel to my own life being played out on screen, and my stand-in, Woody, was making the opposite choice that I had. I wasn't surprised. What would Pixar be saying if they made all those movies about how friendship and looking out for your friends were of the utmost importance if Woody decided not to stay with them at the end? Except Woody had repeatedly decided to part with them. In the second movie, he was going to go to the museum, in the third movie, he was going to go to college, in the opening of the fourth movie, he was going to leave with Bo. In each case, he had to be talked out of it. And in each case, the deciding factor had come down to Andy. But Andy isn't here anymore. So what's your fucking excuse now?! Huh, Woody?! I deserve an answer, goddammn it!
Woody rejoins Buzz, and Buzz says to him, "She'll be okay." Oh, will she?! I was an emotional wreck. Bo was being rejected again, the one character who didn't get the happy endings all the other toys did. And my childhood franchise was telling me I'd chosen wrong. Well, you know what, TS4? I think you're wrong! and another thing—
"Bonnie will be okay."
Sorry, what now?
I started crying even harder.
Buzz and Woody both know that Woody's heart has never belonged to Bonnie. He loves his friends. Of course, he loves his friends. But he can't stay there just for them. He needs to move on and find a purpose for himself, even if that means leaving loved ones because the right place for them is with Bonnie. It's a powerful and grown-up lesson we don't often see in children's movies. It was one last lesson for the lost toys and the lost 30-year-olds.
For some people, the right thing to do is to move on. And if you're lucky, ridiculously lucky, there may be someone with who you get to do that moving on. That's very cool.
On the whole, TS4 is funny, charming, heartbreaking, inspirational, and has an incredible message. On a personal note, it spoke to me and connected with my own story. Woody gets it. Thanks, Pixar.