No, as far as I know Michelle Gomez has dug her heels in and is going nowhere. And I'm really enjoying her performance as Missy (Gomez could play a wall and make it interesting. And probably slightly naughty).
But with all this talk of a new Doctor I thought it might be fun to fancast his (or maybe even her?) arch-nemesis.
I also included the hypothetical Doctor I'd like to see them pitted against. Just for fun. The order of the Doctors isn't necessarily my preference. So here are 10 actors that could do the job.
10. Andrew Scott
I know. It feels almost too obvious, doesn't it? But he does that utterly unhinged, but simultaneously totally fun baddie really well. I think his portrayal would feel a bit like a return to John Simm's style of Master during the RTD era.
He's over the top (to the point of slight camp), dangerous (in an "I'm actually going to kill you now" way), and oddly charming (welp, I'm definitely not gonna stop watching this, might as well make myself a cup of tea and settle in). He has the ability to turn from funny to frightening on a dime, but is always entertaining, and this seems to be a mandatory mix when casting the modern day Masters.
I don't know if it's more or less likely that he'd be cast now that Moffat's leaving the show. Scott is probably on Chibnall's radar, but Chibnall might also be trying to distance himself from Moffat (at least in the beginning), and I couldn't fault him for that. Still. Fun to imagine an Andrew Scott Master gumming up the works for his best friend/worst enemy.
The Doctor: Tim Roth
9. Maisie Williams

Okay, let me explain. I have mixed feelings about Williams' appearance on Doctor Who so far. But, for me, "The Woman Who Lived" was the stand out episode of series 9. I think I'm the only one. But that's okay.
To me, the episode was the one-off adventure story that I had been longing for, and didn't get bogged down by the "look at Clara! But don't forget she's gonna die soon!" effect so much of series 9 seemed to be drilling into. This episode really got to showcase Maisie, whose character herself liked to slip in and out of multiple personas. Also, if you haven't seen Game of Thrones, take my word for it, she's the best thing about it.
It would be great for the Doctor to meet up with who we all believe is Ashildr, only for her to pull the rug out from under all our feet and turn out to be a much darker character. Maisie often pops up as characters that are slightly manic, but also seems to have great control over her performance and shows great power in her moments of stillness.
The Doctor: Idris Elba (per her suggestion)
8. Aidan Turner
I find it strange that someone who so often plays morally ambiguous characters from various time periods in the past HASN'T been on Doctor Who yet, to be honest. The BBC should really get to work on that.
I'm not one of those people who immediately falls for vampires. If anything, it's a fairly major hurdle you'd have to jump over for me to like you. And as I expressed in painstaking detail in my I Am Dracula (Spartacus Edition) post, vampires are blood sucking monsters, not romantic heroes. So well done to Aidan Turner, because I adore him, despite being most familiar with him for playing a vampire in Being Human.
He can play evil, he can play friendly, he can play most anything you'd like him to. He's comfortable taking "genre" roles, if The Hobbit and Being Human are anything to go by. Also, I think he would create a more grounded characterization for the Master than we've seen for a while, which might be a good thing.
The Doctor: Lenora Crinchlow ('cause apparently I'm still not over it)
7. Katie McGrath
When speculation was flying around for who could play the 12th Doctor, I put her on a list of potential candidates, and I still think that she fits the bill, but she'd also be a great choice for the Master.
In Merlin we got to see her play everything from a kind young woman training to be a Lady to a complete bitch of a queen to a literal wicked witch laying low in the woods. She played each turn in the character to perfection. And you could see her playing the Master in any of those ways. Maybe we want to return to a slightly more composed Master? She's got you covered. Evil Master in position of power? She can do that too. Nuts? Absolutely.
I think she may be a little busy with Supergirl at the moment, but maybe Doctor Who could borrow her for a few episodes. Also, I don't think she's being too terribly typecast yet, so it gives her and the showrunner the chance to try taking the character in a few different directions.
The Doctor: Hayley Atwell
6. Benedict Cumberbatch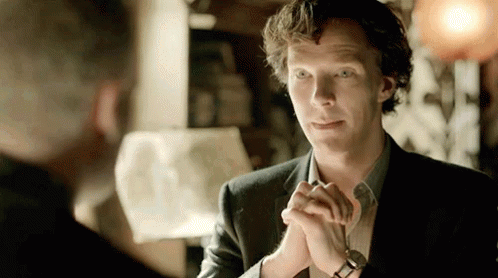 Benedict Cumberbatch should not play the Doctor. I feel very strongly about this, and I realize that saying such a thing is upsetting to a LOT of people, but I've felt this way pretty much forever.
I don't say this because I don't consider him to be a very good actor, quite the contrary, but I think if you examine his body of work, the type of role he plays becomes quite clear: he plays the asshole. Usually, this takes the form of the villain, but even his Sherlock Holmes is a complete and utter bastard. And I've always longed to see him pit that characterization AGAINST the Doctor. I think it would be divine.
But like Andrew Scott, casting Cumberbatch will surely remind people of Sherlock. Then again, casting the hero of Moffat's (current?) show as the new villain of the show he's leaving would be a delicious dollop of good-natured irony. And just generally a good bit of casting.
The Doctor: Olivia Colman
5. Suranne Jones
Doctor Who fans might recognize Suranne Jones in one of my favorite episodes ever, "The Doctor's Wife." She plays Idris, the TARDIS trapped in a human body. And she does so in a wonderfully whimsical and chaotic way.
Her name has been tossed around as a candidate for the Doctor too, but I think she could easily find herself at home in the role of the Master. She's sharp and can quick-talk as fast as Cumberbatch. Okay, but why does the Master take the same form that the TARDIS did that one time? I don't know, but it would be cool to find out!  Just so long as they can come up with a better reason than why 12 had that face. Or else don't mention it at all.
She has held her own both in comedies and dramas and just has a general air of mischief about her, and I think that's a fun angle to take the Master. The Master isn't just evil, and I like when we're reminded that the Doctor and Master actually used to be really good friends. I think Jones would be an excellent candidate for a slightly more friendly Master.
The Doctor: Richard Ayoade
4. Naomie Harris
Basically I saw Moonlight a few weeks ago and want everyone from that movie to be in everything I watch. I couldn't figure out why she seemed to familiar to me, and then I was watching an interview, and surprise! She's British. So I've seen her in a bunch of stuff.
She often plays a somewhere-in-the-middle character, where you're not sure if she's a good guy or a bad guy, only that she's a force and will become a player you can't ignore, the longer you're in the game. She can play competent and put together, but she can also play a mess, and what's a better representation of the Master than someone who started out as competent and put together and became a mess?
Would she do it? I don't know. She's becoming pretty high profile, and might not want to turn down any film offers to do T.V. at the moment. But maybe they could work around her schedule if the Master only shows up every so often. I think it would be worth it if they could cast her.
The Doctor: Keeley Hawes
3. Oscar Isaac
Another actor that I want to see in everything. He's played the dashing hero in Star Wars and the evil genius in Ex Machina. He's capable of playing menacing and creepy, but can pull off cocky banter. And he seems comfortable in the sci-fi genre.
Like a lot of people on this list, he's probably really busy, but wouldn't he be this be fun choice?! Even when he plays a good guy, he tends to be a little bit rascally. And while his character in Ex Machina isn't exactly likeable, he's at least intriguing. He even gets to show off a villainous dance number. Now where have we seen that before *wink wink, nudge nudge*
All in all, he's just a fun performer to watch (so much so that, though Poe Dameron was originally meant to die in Force Awakens, they decided to keep him on), and the Master is a fun character to watch (they've killed him off a BUNCH), so I'm all for putting those two things together.
The Doctor: Helen Mirren
2. Julia Davis
I think I can safely say I'm the first person to suggest Julia Davis play the Master, but I think I'm right on this one. She's mostly a comedic actress, but if you take a cold hard look at the cast, Doctor Who VERY often recruits funny people. How did I come up with her?
Basically, what happened is there's this show called Nighty Night that Davis created and starred in, and I watched a few episodes, and MY GOD, you have never seen more of a wicked witch of a character than the one she plays in this show. She's a complete monster, but it's a dark comedy, so she also gets to be REALLY funny. And among the cast is Mark Gatiss, who famously currently works as a Doctor Who writer.
Davis has the ability to play a bright character, who is actively plotting your demise, and doesn't necessarily care whether you know it or not. I don't know if she might be too similar to Missy to follow her up immediately or a great transition from Missy to whomever might play a future Master, but I'd really love to see what she did in the role.
The Doctor: Jessica Hynes (because they were sorta kinda comedy partners)
1. James Nesbitt
Yeah, pretty much on the merit of Jekyll alone, but he'd be PERFECT. And he's been #1 on my "Master list" for a long time. I don't understand why it didn't happen (especially with Moffat showrunning, but I love Michelle Gomez, so I've made my peace with it).
For anyone who doesn't know, Jekyll was a miniseries created by Steven Moffat, before he was at the helm of Doctor Who, based on the novel The Strage Case of Dr. Jekyll and Mr. Hyde and featured Nesbitt it two roles: mild-mannered Dr. Jackman, and his alter ego, the dangerous Mr. Hyde. The two start to blend into each other, and that's when Nesbitt is at his most Master-y. Sure, he'll jump a fence and kill a lion, but he had to protect that kid.
He's terrifying. And hilarious. And he makes your skin crawl. And you can't wait to see what happens next. All at the same time. It takes a special actor to manage all that, but Nesbitt manages it. And the weird thing is, you want him to win. I mean, you're supposed to want him to win, but it only works with the right actor. And I think we should always be slightly rooting for the Master.
The Doctor: Retroactively, I'd have loved to see him with Eccleston, but for a new Doctor, let's see…Gillian Anderson would be interesting.
It'll probably have a good long while before we get any sort of new casting news, but I have to admit, as sad as it is to see actors I love leave the show, I enjoy all the fancasting and speculation (as long as it remains respectful), After all, it's what keeps the show fresh. There are so many new directions they can go, I can't wait to see what happens next!