Twin Peaks is an odd show. I get that saying that is an understatement. But I'm not just talking about BOB possessing people or supernatural owls or even clairvoyant logs. That's all just on the surface. Twin Peaks deals with some really dark subjects on a regular basis, and each episode ends with a twisted cliffhanger to pull you into the next episode.
No one would call Twin Peaks a comedy or even dramedy. And it's not slice of life. Not on any plane of existence I've ever encountered. But what is it? Drama? Thriller? Mystery? It doesn't seem to fit into any of those categories. And there some seriously disturbing material coming out of that show. Is it okay to laugh when that many people are encountering that much pain?
Yes.
Twin Peaks works as a parody of soap operas and likes to point at itself with big neon signs that flash "ISN'T THIS RIDICULOUS?" Those are the moments when all the intensity pops its top, and we, as the audience, get to have a good laugh. Here are some times it happened to me. And likely happened to you too:
*NOTE: At the point I'm writing this, there are only 4 episodes of the new series available to watch, so most of this list (but not quite all of it) is from the original series.
10. Every Note to Diane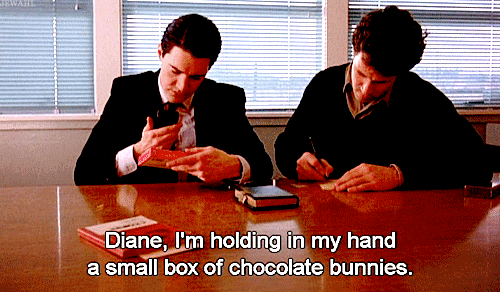 I almost just said Agent Cooper's introduction, but that's just the first Diane tape. They're all gold. Cooper rambles on about important and not so important things, until he's gotten so far off topic that neither the audience, nor seemingly Cooper can remember what the note was originally supposed to be about.
I can't imagine having to wade through that many hours of basically just Cooper's inner monologue. Okay, maybe I can. That actually sounds kind of fun.
They're often used to punctuate an already funny moment, or used to let the audience know it's okay to make light of an otherwise serious situation. The Diane tapes mean humor.
Diane has yet to physically appear in the series, and for that reason is one of the most theorized about characters in the series. One of the more exciting theories that she's gonna show up one of these weeks in the form of Laura Dern. Someone's been peaking at my Christmas list.
9. Nadine Tries Out for the Wrestling Team
After Nadine wakes up from a coma, she's lost all recent memory, but gained super strength. She often doesn't realize her strength and seems confused as to why she keeps ripping doors of their hinges. Thinking she's still a high school student, she gets a crush on one of the high school jocks, Mike.
After doing a little too well at the cheerleading trials, Nadine visits the gym, where Mike is working out. There she impresses the wrestling coach with her strength, and he urges her to join the team, where she shows up Mike. Actually, it's more like she flings him around like a rag doll. The coach is thrilled, and Nadine is pretty pleased with herself, but it takes Mike awhile to warm up to her (though he comes around in the end).
Seeing someone so much smaller do so much damage so effortlessly with such joy is awesome to watch.
8. Leo's Homecoming Party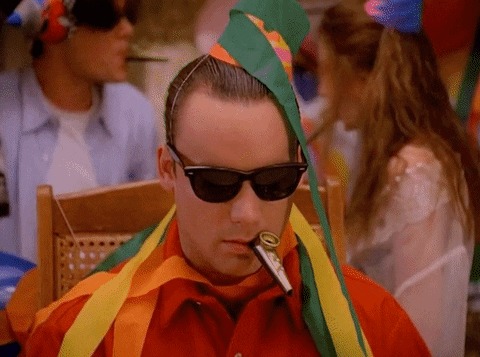 After being shot, Leo is left in a vegetative state. His wife, Shelly, who he abused, and her new boyfriend, Bobby, bring him home from the hospital.
Leo, who seems only vaguely aware of his surroundings, sits perfectly still while Shelly and Bobby throw a celebration around him, claiming it's in his honor.
They cover him in streamers, affix a party hat to his head, and place a kazoo in his mouth, which makes a noise every time he breathes out. Bobby and Shelly play their kazoos along, anticipating when the next sound will come. They even get a little amorous in front of him.
Twisted? Totally. Funny? Absolutely.
The wife beater deserves it.
7. Ben Horne's Civil War Reenactments
I have conflicting feelings about Ben Horne. Like, he's basically a terrible slimy scumbag pretty much of the time. But it seemed near the end, he honestly felt bad about not being a better father to Audrey, and in his own awful way was trying to make up for some of the horrible things he did. And Audrey's my favorite. Don't mess with her.
Regardless, he has some outrageous and hilarious scenes throughout the series that, at the very least, make him interesting and, at the most, make him super fun to watch.
At one point, Ben goes…er…slightly mad, believing himself to be Robert E. Lee during the Civil War. While his family and friends are worried for him, they eventually give in, and the reenactments go from playing with toy soldiers to their dressing in period costumes and bringing in full on sets and props. Leave it to the Horne's to embrace the crazy.
6. Gordon Meets Shelly
Oh, Gordon.
One of the most notable things about his character is that he's played by the series co-creator, David Lynch. That's not to suggest that the character isn't wonderful in his own right. He's delightful.
He wears a hearing aid and speaks no softer than VERY LOUD at any point during the series. And that's how everyone who speaks to him has to respond. Save this one exception.
As Cooper's superior, Gordon drops into Twin Peaks every so often to check up and help out. At one point, he meets with Cooper at the Double R Diner, where he firsts sees Shelly, at her waitressing job, and immediately falls for her.
He approaches her and asks for coffee and pie and is shocked to discover that when she speaks, in her normal quiet register, he can hear her. This only makes him become further enamored with her, and Shelly comes to find him as delightful as we do.
They have several hilarious and endearing interactions together. Ultimately, it goes no further than a kiss (though that serves to make Bobby plenty jealous), but the relationship is exactly as it should be.
5. "Don't drink that coffee!"
To really drive home the fact that Twin Peaks is a small town, there are several scenes around Agent Cooper's arrival that are a little odd. Things that he clearly isn't expecting. Of course, Agent Cooper being Agent Cooper, this only serves to make him love the town even more.
While he's clearly in his own fish out of water story, in this moment there's another fish that stands between him and his beloved coffee.
When he's visiting the home of Pete Martell, Pete gets him and Harry a cup of coffee and leaves the room. He comes running in a moment later, yelling, "Fellas, don't drink that coffee!" just as they both take a big mouthful. By way of explanation, Pete continues, "You'd never guess. There was a fish…in the percolator! Sorry…"
4. Room Service Brings Agent Cooper a Glass of Milk

Agent Cooper gets shot in his hotel room, leaving us with one hell of a cliffhanger, but luckily the next episode brings us room service! An elderly man, who works at the hotel, arrives with the glass of warm milk that Agent Cooper requested.
He walks in, sees a bleeding Cooper lying on the floor, and…does nothing to help.
He seems concerned, but doesn't really know what to do once he's brought in the milk. And Cooper doesn't ask him to do anything, so they just peer at each other, Cooper alarmed at having been shot, and the employee alarmed that a man is bleeding to death on the floor of his hotel room. Finally, he leans over Cooper. So Cooper can sign for the milk.
The scene is agonizingly long and slow, but that's what makes it funny. The longer it goes, the more you think "surely, at some point, one of them will say something about the elephant in the room," and neither ever does.
3. The Llama Moment
An unscripted bit of interaction between Agent Cooper and a Llama.
While investigating a case, Cooper and Harry pay a visit to a vet's office.
The two are talking in the lobby when a woman passes between them. She's holding the lead of a llama. Cooper and Harry are standing fairly close together, which seems to cause the llama to pause. It looks straight at Cooper, who returns the stare, and the llama walks on past. And the conversation continues as though nothing happened.
But it's so unexpected and odd looking that it always gets a chuckle. And it's Cooper and a llama. I don't need more of a reason.
2. Save the Pine Weasel
This whole charity event is bizarre. We knew it would be when it started with a fashion show featuring both Lucy and Andy.
But it reaches peak wtf when the Pine Weasel handler comes out on stage with said animal and is talking to Dick, who's being his usual obnoxious self.
Apparently, the Pine Weasel thinks so too, because it goes from being very mild-mannered and agreeable to attacking Dick viciously. Dick screams in pain thrashing around with it clamped to his nose (it's made even better by the fact that the real animal has been switched out, and he's obviously tussling with a stuffed animal). He manages to pry it off his face and flings it into the crowd, who all fly into a panic, creating utter pandemonium.
Audrey, who was onstage falls into the arms of the John Justice Wheeler, who was luckily standing near by, and they kiss for the first time as the charity goers scream all around them.
1. Wally Brando
There are two kinds of people in this world: those who love this scene and those who are wrong.
The cast list for the third season of Twin Peaks is extensive. In addition to much of the main cast making a return, there were quite a few new celebrities on the list, including Michael Cera. Whether or not this role is a cameo, we can't tell for sure. In the mind of David Lynch, it may have felt vitally important for this character to make an appearance (he is Lucy and Andy's son after all) and then completely disappear.
And that would be okay. This scene is completely joyous. Cera's Marlon Brando impression is just good enough without being what you'd call a good impression. I don't mean that as a sleight. It's the reason this scene is the gold that it is. On top of that, all the actors look like they're about to fall apart laughing at any second. The dialogue is ludicrous, while also dripping with Brando references, and the proud parents, just complete the insane picture.
But there are many more moments that made me laugh in both the old and the new series, and I'm so glad I get to pay another visit to Twin Peaks.